The HST model has been programmed to advice the investors to go Long in the US market during bull phases.
The HST model shifts among:
$TQQQ (3x leveraged ETF based on Nasdaq)  in bull markets
$UPRO (3x leveraged ETF based on S&P)  in bull markets - higher volatility periods
Cash in bear markets or big corrections
Since the HST model is very effectively catching the different phases of the market, it showed an amazing performance during 48 years 1971-2018, allowing a 52.6% average annual yield and manageable drawdowns (maximum 54,6% from previous top touched in 1998). Here are results using 3X leveraged ETFs and not leveraged ETFs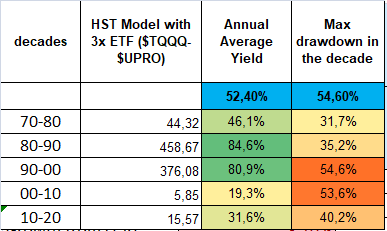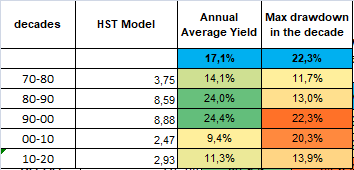 The results are much better than an ordinary strategy of "Buy & Hold" of Nadsaq (with 3x ETF), which would have minor yields and much larger drawdowns. 
------------------------
But let's test some alternative variations of the model:
Instead of going Cash when the models suggests to, what about shorting the S&P or the Nasdaq index with an appropriate ETF ($SPXU-$SQQQ)?
It is an interesting hypothesis: if the model is so good in catching the bear markets,
could we take advantage (=better yields) by this?
Or this aggressive strategy would bring more instability and risk of bigger drawdowns.
As always, instead of "gut feeling", we like to see the data. Here are the results of our backtesting: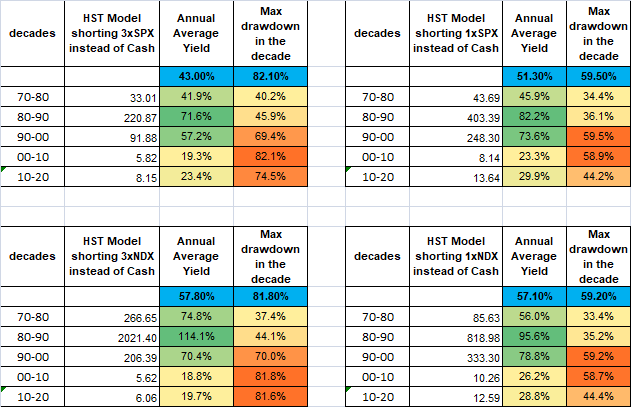 Comments:
using leveraged 3x Short ETFs instead of going Cash (left column) brings more instability, and unsustainable drawdowns . We would discard this hypothesis.
using non leveraged ETH shorting S&P or - better - shorting Nasdaq, would give better yields, and bigger drawdown risks, than the original HST model.
So this is an option that expert traders could reasonably consider and apply.